73rd issue
September 2019
Welcome to the first newsletter of the new school year, and the 7th year the newsletter has been published. If you are interested in applying to American universities, either this year, next year or the year after, the newsletter will guide you through each stage of the application process, and will arrive in your email box around the middle of each month. Links to relevant websites and documents will be provided in every issue, and your specific tasks for the next few months are detailed in the Application Timeline further down this page.

If you live near London, and would like more information about undergraduate study in the US, then you may wish to attend USA College Day, the largest US university fair in Europe that takes place on 27/28 September. See below for details.

USA College Day, 27/28 September 2019

Organised by the US-UK Fulbright Commission, this free event provides prospective undergraduates, parents and teachers the opportunity to meet representatives from over 170 American universities and education service providers.

Dates
Friday 27 September (4:00 pm – 7:00 pm)
Saturday 28 September (10:00 am – 3:00 pm)
You can register to attend the event for a maximum of two hours, either on Friday, or Saturday, but not both. The event is the same on both days.

Registration
Register here for USA College Day.
On the registration page, you will see that you must book for a particular time slot: 4.00pm, 5.00pm or 5.30pm on Friday; 10.00am, 11.00am, 1.00pm or 2.00pm on Saturday.

Venue
ILEC Conference Centre, 47 Lillie Road, London SW6 1UD Nearest tube: West Brompton (District Line) Click here for a map.

Cost
Free to attend if you register in advance. Tickets are required for entry.

Tips for making the most of USA College Day
The event attracts over 4,000 visitors each year and the venue gets very crowded, particularly on the Saturday. To get the most out of your visit, you need to plan in advance.
Once you have registered, check out the list of exhibitors and make a shortlist of the stands you wish to visit. Check the location of the stands on the floor plan and decide in which order to visit them.
Explore the websites of all the colleges on your shortlist. Use the information on the website to decide which question(s) you want to ask when you speak to the college representatives. This is most important: students who have done their homework and ask pertinent questions will make a good impression to the college reps at each stand.

Come and see us at the Harvard stand!
Crowds of visitors at the Harvard stand at last year's USA College Day
You will get the chance to meet Harvard Senior Admissions Officer Janet Irons, newsletter editors Stuart Gordon and Vicky Leung, plus some Harvard alumni including Vicky Sanders, Eva Harvey, Ali Khanbhai, Tamara Howard and Jordan Evans. We would love to see you!


Application Timeline

It is never too early to start planning your application. A summary of what you should be doing in Years 11, 12 and 13 appears below: all topics will be covered in more detail in future newsletters at the appropriate point in the application cycle.

Year 11. The most important task this year is to work hard and get good grades for your GCSEs next summer. Work consistently throughout the year and don't 'coast' – good GCSE grades will open the gateway to whatever you want to do afterwards. Other than that, do some general research during the year to see if the broad curriculum offered at American colleges interests you, or if you would prefer the more specialist courses offered at UK universities. Either way, your decision is likely to affect the subjects you choose to study at A Level. Look through the Fulbright Commission website and search through one or two of the US college search engines.

Summer holiday between Years 11 and 12. Try to arrange some work experience or community service during the summer. This will enhance your CV and make you more attractive to US college admissions officers, who will assess all aspects of your ability and achievements, not only your academic grades.

Year 12. If you have just started Year 12, there are two important tasks you should complete this year. Firstly, register for the standardised tests required by most American colleges (either the SAT or ACT – links to free practice material are at the end of this paragraph). A good time to take the tests is in the spring of Year 12, as the standard is similar to the old AS Level exams that used to be taken at that time. But you should book a place at one of the UK tests centres well in advance as places get filled up very quickly. Early booking will also ensure you get plenty of time to practise the tests and help maximise your score. Secondly, do some further research into your college choices and make a short list of between 6 and 8 colleges where you intend to make firm applications.

Here are the links to the free online practice material, and the free online coaching:

SAT Reasoning Test

SAT Subject Tests

For the SAT, there are also free online practice tools provided by the Khan Academy.

ACT Test

Additional free online practice tests for the ACT are provided by Union Test Prep.

If you need additional practice material, books of SAT and ACT practice tests are available from online publishers at around £20 each.

Summer holiday between Years 12 and 13. Utilise your summer holiday to complete as much of your application as possible. Most students use the Common Application Form, but there are now two other options – see the July 2019 newsletter for details. The more you can do before the start of Year 13, the better, because the autumn term will be very busy. Also do some more work experience or community service if you can, to further enhance your profile.

Year 13. Hopefully you will already have compiled most of your application by the start of the autumn term. If you are still working on your student essay (equivalent of the UCAS Personal Statement), see last month's newsletter (August 2019) for essay titles and writing tips. Inform your Head of Sixth Form or University Adviser that you are applying to the States, as once you submit your application, it will generate a communication to your school asking for transcripts of your exam results and teacher recommendations.


New first year students move in to Harvard Yard

On 2nd September, the Class of 2023 moved in to their dorms assisted by voluntary 'move-in staff' that included Harvard President Larry Bacow. This year's class is 1,650 strong – 13.1% are international students (from outside the USA); and 14.5% are the first in their families to attend university.
Harvard President Larry Bacow (centre) and his wife Adele greet first-year parent Mike Campbell
All first year students are housed on Harvard Yard, right in the hub of the university, so that a strong and dynamic community can be established right from the start of the students' four year journey through Harvard. Here are some more photos from move-in day:
Taliah Williams braids her daughter Autumn Johnson's hair for the last time before her Harvard experience begins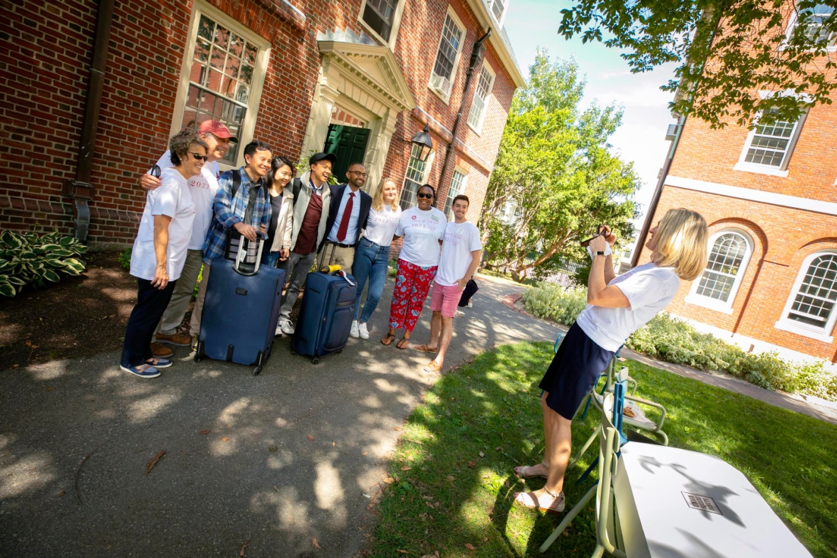 Dean of students Katie O'Dair photographs first year students and their parents with Larry and Adele Bacow.
Page Proctor (left) and Galadriel Coury make sure their dorm room will be comfortable.
When addressing the Class of 2023 later that day, President Larry Bacow refers to the extraordinary breadth of Harvard's academic and extracurricular opportunities by saying: "Anyone who is thinking of the next four years as a series of stepping stones to a predetermined outcome – be it an award, a concentration, a job, a specific career, or anything else – is a person who will miss the point of this place."