82nd issue
June 2020
In this issue:
Honoring the Class of 2020 – how graduation day had to go virtual this year
If you miss out on Harvard, what next?  After narrowly missing a place at Harvard College three years ago, Jessica Kelly, a 2nd year student at Durham University, UK, explains how she picked herself up and refocused…
Applying to US colleges – what should you be doing now?  If you will be applying to American universities this year or next year, or you have already been admitted, here is what you should be doing over the next few weeks.
_________________________________ 
Honoring the Class of 2020
Virtual Graduation Day, 28 May 2020
Normally, Graduation Day at Harvard (or 'Commencement', as they confusingly call it) is a gloriously over-the-top American style outdoor event – a delightful mixture of ceremony and good humour.  The cancellation of the live event this year (usually attended by 28,000 people in Harvard Yard) meant that for the first time ever, it had to take place online.  But that did not stop organizers doing their utmost to imbue it with at least some of the razzmatazz of a typical Harvard celebration.  
A recording of the whole online graduation ceremony can be seen here.  
Of particular interest to UK students will be the long series of still photographs shown at the beginning of the recording with some rousing background music played by the Harvard University Band.  It is a pictorial montage of the four-year journey of the Class of 2020 from arriving on campus in August 2016 until most of them had to return home due to the coronavirus outbreak in March 2020.  Some of the images are reproduced below, where you can see just a tiny fraction of the dazzling kaleidoscope of activity available to students as they make their astonishing journey through the Harvard liberal arts program.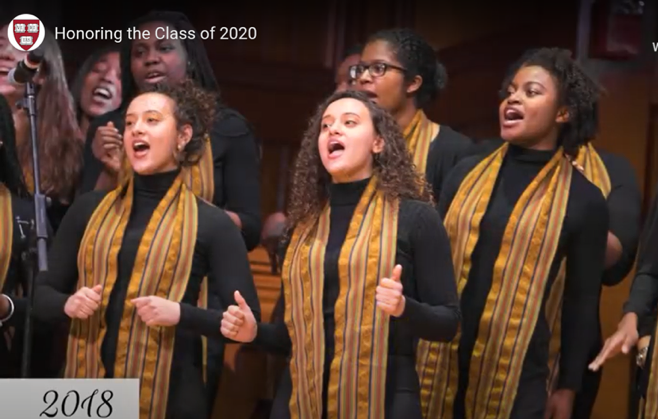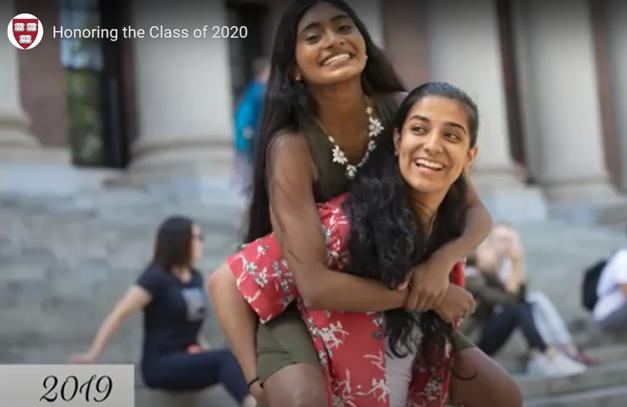 'Fair Harvard' – University-wide Commencement Choir
The finale of the online ceremony is a rendition of the Harvard song Fair Harvard.  Starting with an unaccompanied soloist, more and more singers and instrumentalists gradually join in until a large university-wide chorus are all singing in perfect harmony.  Very moving, and an astonishing achievement technically bearing in mind they are all participating from different locations.  Well worth a look.  Click here for video – then click near the end at 1:40:38 for the start of the Fair Harvard Chorus.  
If you miss out on Harvard, what next? 
While we are always delighted by the superb group of UK students accepted by Harvard College every year, we are of course aware that a great many excellent candidates have to be turned away simply because we have more applicants than places available.  For this reason, we always recommend that if you apply to Harvard, you should also apply to a broad range of competitive and less competitive universities both in the US and the UK.  Then if you are not offered a place at your first choice university, you will still have other great options open to you.  
Jessica Kelly, from The Wirral in north-west England, narrowly missed out on a place at Harvard three years ago when she was put on the wait list during a year when the uptake of offers was unusually high, meaning that no additional places became available.  But she picked herself up and started to make other plans.  Jessica takes up the story….. 
Jessica Kelly, 2nd year student at Durham University, UK
Photo © Jessica Kelly 2020
"A very wise teacher told me that there is more than one path to the same destination. With this in mind, I decided to take a gap year to reflect and identify what exactly I was looking for out of my university experience. I realized that I wanted to study at a university that had an excellent academic reputation, as well as study a course that would provide me with the flexibility to keep my options open before choosing specific fields to specialize in. 
"After researching several UK universities, I eventually chose Durham University in north-east England. One of the main reasons was because of Durham's collegiate system. I liked the idea that I would automatically be a part of a small community, within such a huge university. 
"I chose the Combined Honours in Social Sciences course as it fitted the requirements I identified above. In first year, I could take up to four subjects, and I am able to take three of these subjects throughout the rest of my degree. This gave me an extra two years to decide that I would like to specialize in Human Geography and Mandarin Chinese. I also chose this course as it was the only course in the UK that allowed me to combine such unique combinations of subjects together within one degree. I like the fact that I can tailor my own bespoke degree, and I believe it is very close to the Harvard Liberal Arts program that I originally applied for. 
"I have been able to meet like-minded and unique people who are designing and pursuing really interesting degrees. Moreover, Durham's academic prestige means that I have the opportunity to be taught by professors that are leaders in their field. This course also allowed me to take up economics from scratch in my first year of university, without having to commit to studying it for the rest of my degree. I believe that having the opportunity to try something new without the pressure of committing to a whole degree has really enhanced my academic experience. 
"My Mandarin Chinese course involves an extra year's study in China, so I applied and was successful in gaining a place at Peking University in Beijing to participate in an overseas exchange program running from August 2020 to June 2021 (COVID-19 permitting). I am therefore really looking forward to having the opportunity to enhance my Mandarin skills and be fully immersed into a culture which I have studied since secondary school."
Like most other students, Jessica has been working from home since March and has been taking her classes (and completing exams!) online since then.  As a follow-up to the article in last month's newsletter, we asked her how she was getting on with taking her classes remotely and what tips she might have for UK students who have accepted places at university starting later this year and will be taking their classes online for at least the first term.  
Which subjects have you been taking online this term?
Level 2 Chinese Language 
Chinese Cinema
Geographies of Development
Climate Change: Geographical Perspectives
Geochemistry of the Environment 
What are the best aspects of taking classes online
Saving time walking to and between classes gives me more prep time. It's great to have time to read over the preparatory reading or recap last class' key points. 
Being able to have a cup of tea and a snack (usually cake) whilst having class. 
On Zoom there is a discussion board which allows people to ask questions. I have actually found that taking classes online allows for a more interesting and engaging discussion as more people tend to join in if they can type a comment/question. It is less intimidating than speaking in a room full of over 300 people.
I'm never worried about being late!
What are the worst aspects of taking classes online?
I really miss the little pockets of socialising before class, and the ability to discuss the material during mid-lecture breaks and after class with my friends. I will never again undervalue the buzz of a lecture theatre!
Chinese (or any language I can imagine) is particularly difficult as only one person can speak at once online, so oral classes are less productive as each person gets less time to speak. It is also slightly more nerve-wracking given the whole class is listening compared to the small group I would normally be practising with. 
One of my favourite things to do in Durham is to go to the college or university library with my friends for a study session. It is difficult to self-motivate sometimes.
From your experience of online learning, do you have any tips for UK sixth formers who have accepted places at university starting this autumn and will be taking their classes online? 
Firstly, congratulations on getting a place at university! 
Be brave and reach out to people on your course or from your college. Send them a message. Utilise social media pages. Everybody will likely be really happy and want to connect and make friends.
Remember university is a huge step up academically with a lot of independent and self-driven work anyway. Don't worry if you feel overwhelmed by this. Drop your lecturers an email (they'll also have virtual office hours), ask people in older years if they can provide any hints or tips, and actively engage with the material/reading set. 
Join societies- get involved with all of the online activities that each society you might be interested in does. It will be a great way to try things out and see if you like them, and when you finally arrive on campus, you will already have formed a little community of like-minded peers. 
Definitely learn how to access the library and find resources relevant to your course online. 
Most, if not all universities have welfare and support systems in place. Please reach out if you feel as though you need it, that's what they're there for. 
Applying to US colleges – what should I be doing now?  
If you will be applying to American universities this year or next year, or you have already been admitted, here is what you should be doing over the next few weeks.
Year 11 – Despite the fact that you will not be taking your normal exams this term, you should nevertheless have been doing the best you can with your online lessons so that your teachers provide you with a good assessment to the relevant exam board.  If social distancing regulations allow, spend two or more weeks in the summer doing some kind of community service, work experience, mini-research project, or developing an extracurricular activity that is of particular interest to you, even if you have to do this online.  If it is not possible, don't worry, you will not be marked down for it when you come to apply for university in two years' time, but under normal circumstances US universities like you to have done something constructive during your summer holidays.  
Year 12 – If you are still researching which US colleges you want to apply to in the autumn, make sure you have identified your final shortlist by 1st August when the online application forms go live.  You can apply to as many colleges as you like, but a shortlist of 5-8 colleges is typical.  The July issue of the newsletter will contain information on the main two application methods, the Common Application Form and the Coalition, and what allowances they are making this year to take account of the fact that most applicants will not have not been able to take their normal exams.
Year 13 – If you have been admitted to a US college to start your undergraduate studies from August, you will almost certainly be taking all your classes online from home at least until Christmas.  Read the students' stories in the May and June issues of this newsletter, where they provide tips about how to make the most of home working.  The major downside of taking classes online, of course, is the lack of social interaction with your classmates and professors.  Take note particularly of Jessica Kelly's advice further up the page where she says: 
Be brave and reach out to people on your course or from your college. Send them a message. Utilise social media pages. Everybody will likely be really happy and want to connect and make friends. 
Making lots of friends online from your course or college will be enormously helpful socially once you arrive on campus sometime in 2021.  Try to build an online community before you get there so that you already know your classmates and can really enjoy meeting them in person once things get back to normal.