83rd issue
July 2020
In this issue:
 
First year students starting their undergraduate degrees at Harvard College this fall will be able to reside on campus while taking their classes online, after an order made by the US Immigration and Customs Enforcement (ICE) is rescinded.  
Harvard and many other US colleges have made the SAT and ACT standardised tests optional for candidates applying for entry in 2021 (Class of 2025).
Online application forms to US colleges have an additional question on COVID-19 this year.
UK Harvard graduate James Bedford has received two awards for his work developing programs for first generation low income students while at Harvard.  
_________________________________
 
 
Harvard announces that up to 40% of undergraduates will be brought to campus this fall after ICE order is rescinded
 
On 6th July, Harvard's Faculty of Arts and Sciences announced plans to bring up to 40% of undergraduate students to campus for the fall semester, including all first year students, and those from other years who may not be able to learn successfully in their current home learning environment.  In order to maintain social distancing measures, all courses will be taken online.  
 
On the very same day, the US Immigration and Customs Enforcement (ICE) announced that international students will not be allowed to stay in the country if they attend institutions, like Harvard, that are holding all their courses online this fall.  In a letter to the Harvard Community on 8th July, entitled Supporting International Students, Harvard President Larry Bacow said: "For many of our international students, studying in the United States and studying at Harvard is the fulfillment of a lifelong dream……we will not stand by to see our international students' dreams extinguished by a deeply misguided order. We owe it to them to stand up and fight – and we will."  Harvard and MIT immediately filed pleadings to the US District Court in Boston seeking a temporary restraining order prohibiting enforcement.  
 
On 14th July came the excellent news that the order had been rescinded in response to the Harvard/MIT suit.  In a second letter to members of the Harvard community, President Bacow paid tribute to the hundreds of colleges and universities, cities, labor unions, civic organizations, and higher education associations that had supported the suit, commenting: "We all recognize the value that international students bring to our campuses, to this nation, and to the world."  

To read the full text of the letter, click here.  

Now the order has been revoked, first year students will return to campus in the fall.  The freshmen dorms on Harvard Yard and the 12 residential houses for upper-classmen will be reconfigured so that all students have single bedrooms with a shared bathroom.  Full details of the Fall 2020 plans can be found here, including information on remote teaching and learning, learning remotely from campus, undergraduate cost of attendance, deferrals and leave of absence, and health & safety.  
 
 
Prepare for learning remotely
 
Regardless of whether classes are taken at home or on campus, most Harvard students, along with students at many other universities on both sides of the Atlantic, will be learning online for part or all of the 2020/21 academic year.  It is therefore imperative that all students returning to their classes this autumn  prepare for online learning.  
 
Firstly, check out the tips for taking online classes suggested by two UK Harvard undergraduates in the May 2020 issue of this newsletter. 

Besides the obvious disadvantages, they also discovered some unexpected benefits to taking classes from home.  
 
Another excellent resource is Harvard's Academic Resource Center (ARC), particularly its page on Learning Remotely.

Its four sections provide plenty of useful information about online learning:
 
 

Students applying to the Harvard Class of 2025 will not have to submit standardised test scores
 
If you are at the end of Year 12 (England and Wales), S5 (Scotland), or Year 13 (Northern Ireland), and you will be submitting your application to Harvard later this year for entry in 2021 (graduating class of 2025), you will not be required to submit SAT or ACT standardised test scores this year.  Many US colleges have made similar announcements, so make sure you check with all the colleges to which you are applying.  
 
For further information, go to the page headed: Application Considerations for the Class of 2025 on the Harvard College website. 
  
The paragraphs on standardised tests read as follows: 

Harvard College will allow students to apply for admission to the Class of 2025 without requiring standardized test scores. We understand that the COVID-19 pandemic has created insurmountable challenges in scheduling tests for all students, particularly those from modest economic backgrounds, and we believe this temporary change addresses these challenges.

Consistent with Harvard's whole-person admissions process, standardized tests are only one factor among many. Accomplishments in and out of the classroom during the high school years – including community involvement, employment, and help given to students' families are considered as part of our process. However, students who find themselves limited in the activities they can pursue due to the current coronavirus outbreak will not be disadvantaged as a result, nor will students who are only able to present pass/fail grades or other similar marks on their transcripts this spring.

Students who do not submit standardized testing this coming year will not be disadvantaged in the application process. Their applications will be considered on the basis of what they have presented, and they are encouraged to send whatever materials they believe would convey their accomplishments in secondary school and their promise for the future. 

 
Online application forms to US colleges will have additional question on COVID-19 this year
 
This year, both of the main application methods to US colleges, the Common Application Form and the Coalition for College, have an additional (optional) question for students affected by COVID-19.  
 
The Common Application Form has added this question to the 'Additional Information' section of the form: 
 
Community disruptions such as COVID-19 and natural disasters can have deep and long-lasting impacts. If you need it, this space is yours to describe those impacts. Colleges care about the effects on your health and well-being, safety, family circumstances, future plans, and education, including access to reliable technology and quiet study spaces. 
 
The Coalition for College has a similar question: 
 
Natural disasters and emergency situations like the COVID-19 pandemic have impacted the lives of many students and their families. While entirely optional, you may share information here regarding how any of these events have affected you or your family circumstances. 
 
Full details of the questions, and how to answer them, will appear in the next issue of the newsletter, due to be published on 1st August (the same day the applications forms go live).  
 
 
British student receives two awards for his work with First Generation Low Income (FGLI) students at Harvard 
 
British student James Bedford, from Totnes, Devon, has received the Outstanding Senior Award at this year's virtual graduation ceremony as well as the Student Trailblazer Award from the first-generation student community.  As a first-generation student himself (he was the first person in his family ever to go to university) he was very aware of the issues sometimes faced by students feeling they don't really belong in such a prestigious institution as Harvard, particularly if there is no family history of gaining a university degree.  So from his second year onwards, he set about creating programs to support such students reap the full benefits of a Harvard liberal arts education.  He takes up the story below.  
 
James Bedford, Harvard Class of 2020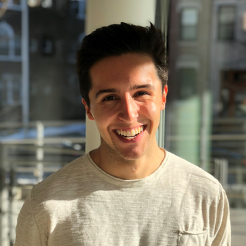 Photo © James Bedford 2020
I've been working with first-generation programming at the College since around my second year.  Being an international student in the US, ever since I arrived I was well aware of the cultural differences between me and my American peers (humour, spelling, and cuisine to mention just a few), but as I began to meet more students, I realised that my experiences were also heavily shaped by being a first-generation student in the US.  First-generation students (in the US College student sense) are those who will be the first in their family to go to university and earn a bachelor's degree.  Being a first-gen low-income ("FGLI") student myself, it became something very personal to me and I wanted to try to make sure other students like me could thrive at Harvard. 
 
Often, coming to university can be daunting if you don't know many people who've ever gone before you, so in my second ("sophomore") year I co-founded the First Year Retreat and Experience (FYRE) program, a pre-orientation program to specifically guide incoming first-generation students through how to make the most of their Harvard experience and maximise all the resources Harvard has to offer.  
First Year Retreat and Experience (FYRE)
 

Photo © James Bedford 2020
For many Harvard students, their parents or high-school teachers or peers might have been able to tell them what life at a so-called "elite," Ivy-League institution is like, but first-generation students didn't join freshman year with the same cultural capital – the same understanding of student life and how to maximise their experience and navigate the immense resources of the university. 
 
After being appointed to co-chair the program, we recruited around 25 first-generation distinguished student leaders from across the campus (student leaders from all walks of life, be it athletics, journalism clubs, stem cell research labs, improv. comedy and satire groups, or human rights advocacy organisations) to be team leaders for FYRE, and develop the programming for the 4-day pre-orientation program. 
 
Quite symbolically, incoming Harvard President Lawrence Bacow gave his very first address to students at the FYRE opening ceremony.  The rest of the program consisted of training from professors to show you the ropes, socials with student leaders to build a network before you start, and visits to a host of different resource offices to learn about getting funding for internships, going to study abroad, finding academic support, and overcoming common sticking points that first-generations face.  The program has now been formally adopted as one of the six pre-orientation programs available every year to 100 new students to help them acclimatise to life at Harvard. 
 
Following that, I was lucky to work with the Bill & Melinda Gates Foundation to program a new school for FGLI students, and I also worked with the Roosevelt Foundation to create a large Harvard summer internship program to give first-generation students priority access to great research and business opportunities for their summer holidays.  
 
As the culmination of my Harvard career, in my fourth ("senior") year, I ended up building and co-teaching my own Harvard class in Science Communication along with a couple of my favourite professors.  The class came out of a deep worry I had that students knew their specialist fields really well, but couldn't convey and communicate their knowledge clearly. 
The first students to enrol in the new Science Communication class

 
Photo © James Bedford 2020
If we train stem cell biologists who can't educate people about future therapies, computer scientists who can't adroitly inform clients on privacy concerns, climate scientists who can't change behaviours, and doctors who can't reassure their patients, then we've lost a great deal of impact in the world.  The aim was also informed by my will to help first-generation students build the public speaking and presentation skills that would help them excel in science and technology fields after they graduate.  I spent about a year researching and preparing the course amidst my stem cell lab research and spent a long time thinking what kind of course would have the greatest impact on me as a student.  
 
We slated the course for Spring 2020 – little did I know then that I'd be teaching a science communication class in the middle of a public-health disaster – and when we launched, we were almost five times over-enrolled by interested students!  I designed the course to be very hands-on and weighted on individual training with students learning a host of science communication techniques.  For instance, I had them learn professional filming, video editing and podcasting for public health communication, 3D modelling and data visualisation for business pitching, print-design and data distillation for scientific journalism, and speech writing and presentation design for our section on grant and policy making.  We had a host of great guest speakers come to talk from Pulitzer-prize winning journalists and New York Times best sellers to the Chief Scientific Officer at Novartis (a major biotech company), public policy makers from Partners Healthcare, and public speaking coaches from the American Repertory Theatre.  I'll admit, teaching over Zoom was a bit of a pain, but all my students improved hugely and the department is planning to continue to run the class (SCRB78) next year. 
 
It was incredibly touching to receive both awards as I graduated this year.  I continue to mentor students in the US and UK and do what I can mostly because the FGLI community is one of the warmest and kindest homes, of many, I found at Harvard and I'm proud to see them all succeed! 
 
James graduated in May this year and is spending the summer in Cambridge doing research and student advising.  He starts his full time job in October with the Boston Consulting Group at their Boston HQ.